Thursday, January 12, 2012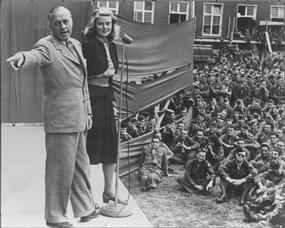 1-11-42 From
March Field
Interesting intro from 'Buck Benny.' Jack Benny was the entertainer who
The
NoKo's are going to preserve and display dear leader
.
North Korea said Thursday it will enshrine "eternal leader" Kim Jong Il's preserved body in the palace housing the body of his father, national founder Kim Il Sung..

On Thursday, the North said Kim Jong Il's body will be displayed at Pyongyang's Kumsusan Memorial Palace, where the embalmed body of Kim Il Sung has been lying since 1995, a year after he died. Kim Il Sung is still known as North Korea's "eternal president." It was unclear whether their bodies would be in the same room.
No doubt the crack team of embalmers will do a better job than the Bentham crew originally did. This is Bentham's real noggin. The one on Jeremy in a Box is a wax replacement.
I suspect Li'l Kim will end up looking like this:
What is it with communist regimes and display mummies anyway?