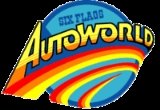 Hah!
And double
Hah
!
Click the second link for a quick backgrounder on the "AutoWorld" debacle, yet another sad chapter in the History of Flint.
On a lighter note: The management of
Socrates World
(tm)
is now taking public feedback as they build the concept of
Socrates World
. In particular, they are requesting ideas for rides and attractions that would be of interest to tourists. A sampling of suggestions from our steering committee, to give you some idea what we are looking for:
Thrill ride similar to Disney Space Mountain, etc.:
Plato's Cave
Beverage stop for adults:
Rene D's I Drink Therefore I am
Disorienting House of Mirrors, optical illusions, and horrors:
Hegel's Hideaway
Game Room with Norwegian themed decor (pinball, video games, prize games, three card Monty, and the like):
Ludwig's Magic Hut
Women's Apparel shop:
Artie Schopenhauer's He-man Woman's-lovers Boutique
These are but a few ideas we have had, and we invite public input, at the hearing scheduled for July 12 in the Agora
Your
Socrates World
(tm)
team,
Ari the Stageirite, Harry the Ephesian, Demi the Abderan, Parmen the Elean.